For the  woman desiring to deepen her feminine embodiment, fully trust herself  intuition & spiritual gifts and become a sought after coach and leader 
Cosmic Rose Mystery School is a nine month feminine embodiment & facilitator certification. This is for the woman that is ready to deepen her level of feminine mastery, activate her spiritual connection and create life changing, transformational spaces for her clients so that she can hold unwavering trust for herself, be sought after and create a thriving life & company. 
I Already Know I'm IN - Where Do I Sign Up!? 🔥
Imagine feeling...
Unwavering belief and conviction around who you are, what you want, what you do/offer, how you lead, and you sacred mission. 
Pleasure in a way that makes your skin tingle, your yoni pulsate and your heart expand – not only is sex better, but life & business… all the time. You're able to tap into the warmth & goosebumps of pleasure in the micro moments of every day.
Trusting the intuitive wisdom that your body holds – so that when you hear that whisper, download, ping, & desire and you never second guess it.
A nervous system that is wired for safety, that is centered and regulated – so that you can actually feel PEACE even in the midst of a storm. You're in your power, and no longer a victim to circumstance or the wild waves of what's happening "out there." You operate in QUEEN mode – calm, cool, collected, and unwavering.
Safe to take up space, to get loud, to be bold, to be seen so that you can speak your truth, your boundaries, your desires, and your expectations clearly with pure conviction & power.
Actually know your body and your womb, so that you can trust the innate power you hold as WOMAN in every cell of your being. This is the power etched into the bones of your pelvis and the waters of your womb so that you can step fully into body sovereignty and confidence to advocate for your vitality. 
Reconnected to the ancient language of your womb and the healed ancestors within your lineage so that you can  tap into their wisdom as guides for your personal evolution. Knowing that you are never alone in your journey. 
Safe, rooted and overflowing in life, business, wealth, sex, relationships, mothering and sisterhood so that when your head hits the pillow every night, you feel GOOD. You feel safe. You feel peace. You feel gratitude. You feel the buzzing of joy and ecstatic "holy shit this is my life!?" You feel like you finally have the energy & vitality to pour into the things that matter most to you in your life.
Now imagine feeling this in your work...
✺ So deeply embodied in your level of feminine mastery that you are able to guide yourself and clients through depth work and radical transformation with zero doubt or question or hesitation.
 You will refine more of your skillset as coach, healer, mentor [learning my signature methodology, the Womb-Body Method, a synergy of  energy healing, womb alchemy, and embodiment work – and spending time not only embodying it yourself, but refining your OWN unique methodology & process in your work]]
✺ Being the most sought-after leader and healer in the industry so that there's just something different about you, your energy, and your work – it's palpable
✺ Infusing more feminine principles and practices into the mindset and business work that you already so beautifully do so that you can take your clients even deeper and create quantum leaps and lasting results. 
✺ Helping your clients really become the highest, most elevated versions of themselves
✺Feeling fully confident in how you hold & lead your clients to meet their edges, their shadows, and their depths so that you're not afraid of any of it and can confidently navigate anything that comes up
✺ Being anchored in your own unique process & methodology that sets you apart from other coaches and healers in your industry so that your clients organically share & raaaave about the work that they do with you
✺ Not needing to follow a blueprint or rubric for coaching, instead you can so clearly read your clients & their energy that even the most subtle cues can guide their entire transformation
✺ Being so masterful in your work and holding potent spaces of deep transformation that have clients raving which leads to an increase in sales and a consistent, sustainable income rooted in your divine mission and pure, genuine service so that making a bigger income & a bigger impact feels effortless and natural
✺ Knowing your work is making a lasting impact not only in your clients work, but in their life, relationships too – collectively, and even generationally
I feel this so deeply - I'm in!!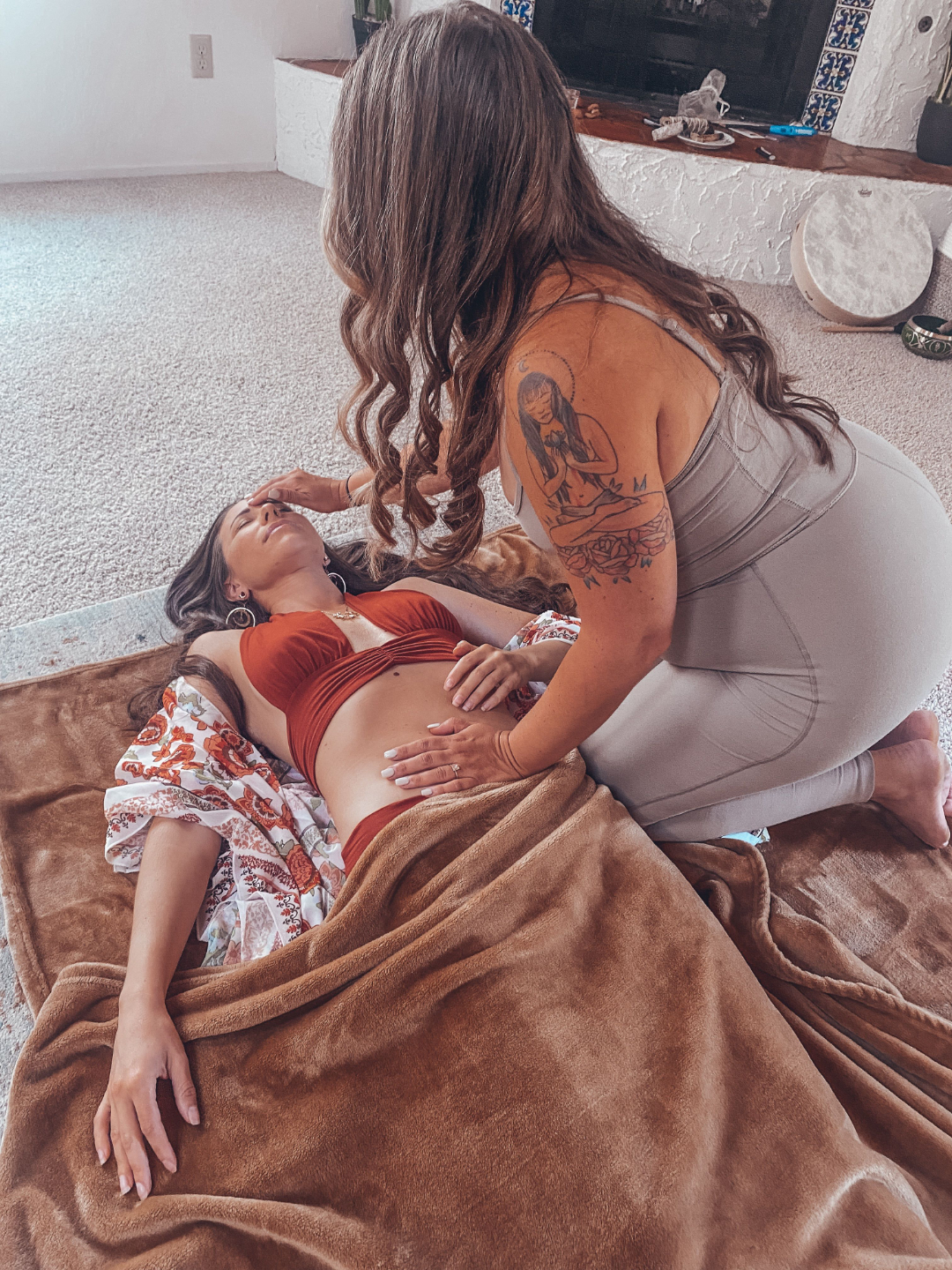 In this 9-month experience, you will be held and guided through your own personal rebirth AND you will receive the tools, practices, teachings, integration, & embodiment to facilitate this level of feminine mastery and womb healing work to your own clients and offerings. 
It's everything you would want to receive in a "certification" program without the title of certification, because honestly f*ck the constant need to prove ourselves in this work. 
My belief is that a piece of paper does not deem you worthy of doing the work your soul already has the template for – your body knows, your womb knows and this experience is designed to activate it all for you. 
Womb-Body Method
The Womb-Body Method is the signature method that you will be taught in Cosmic Rose Mystery School. 
The Womb-Body Method is designed to support alchemical transformation through energetic healing, emotional alchemy, somatic womb (trauma) healing and embodiment. 
By learning the Womb-Body Method you will become a master at a full-spectrum approach to supporting clients. You will learn how to map the feminine body in a way that creates deep transformation -- turning trauma into gold and darkness into luminosity. 
3 Pillars of Cosmic Rose: 
1. Feminine Embodiment - Deepening your level of feminine embodiment will support you in being an open portal of receiving. Your feminine radiance will be so turned on that you will become a magnet of your desires. You will activate deep levels of abundance, ease and flow in your life. 
2. Priestess Activation - A priestess is a woman that is fully connected to her spiritual and intuitive gifts. Connecting to your priestess energy will amplify your manifestations and the power of trust with your body & intuition. You will find a deep connection to the lineage of Mary Magdalene and her tantric womb mysteries, which will amplify you sexual/creative/life force energy. A priestess is a woman that is highly connected to her body, her womb, her intuition and the divine - she is also a woman that leads with serves and is here to generate planetary healing and collective shifts. 
3. Facilitation - Being able to create life-changing experiences for clients leads to clients raving about your work. You will receive the tools to take your clients into the body in a way that will create safety and quantum leap them into their next evolution. Powerful client experiences leads to more referrals, more re-signed clients and being an authority in your work. This is where you become the most sought-after healer / coach / intuitive and really anchor into your purpose. 
I can feel the buzzzzzing!
The Journey of Embodiment
To walk the feminine path is to trust the mystery that she unravels for us.
And yet, we also want to create a sense of anchoring and support for our exploration.
Throughout our 9 months together, we will spiral into nine different portals of receptivity and power within the feminine body.
Over the course of the 9 months, you will become an Embodied Master in...
Investment  + Next Steps //
The next step is to say yes to yourself and trust that this is exactly the container you were called to step into. Nine months is a big commitment -- energetically, financially and emotionally. I invite you to pause for a moment. Close down your eyes. Place one hand on the womb and one hand on your heart and ask "does this support my highest timeline?". Tune into what you hear and feel. Trust the yes that comes through and decide now. You are so supported and loved and I'm SO ecstatic to welcome you in! xx, L
What's Included:
9 months of high-touch, personalized mentorship within an intimate group setting 

Portal of pre-recorded temples with teaching and guided embodiment practices

Bi-weekly group coaching calls // this will be your opportunity to receive high-touch 1:1 support with Lauren and receive practicum trainings

(1) Quarterly Business Workshop 

Community support via private Telegram channel

Lifetime access to all content // revisit the practices and teachings as often as you'd like

BONUS: Access to Womb Codes 
Discounted Rate for Summer Solstice Sedona Retreat 
Meet Your Guide, Teacher, & Mentor:
Lauren Megan is a mother, somatic trauma and womb healer, feminine embodiment + leadership coach & Priestess. Lauren heals and initiates women into the full-spectrum divine feminine by connecting them back to their roots, womb & heart. Her mission is to help women heal, unravel and decondition from the beliefs and generational traumas that keep them from leading from desire, expressing their wild feminine and receiving the wealth, legacy & intimacy they crave.
Frequently Asked Questions
Can I receive 1x1 support with Lauren?
When is the retreat? Is it included in total price?